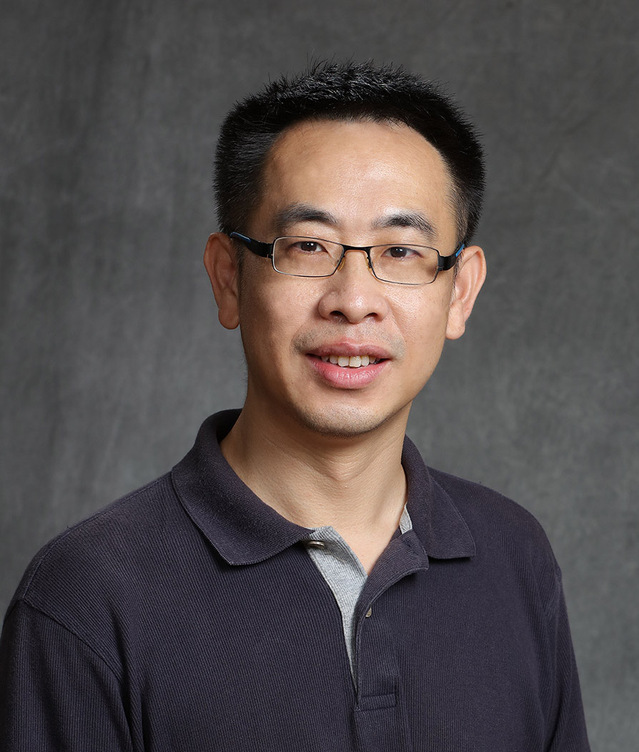 严俊,博士
青年研究员、博士生导师、实验动物部PI
地址:上海东安路130号(200032)
邮箱:yan_jun@fudan.edu.cn
实验室主页:https://yanjunlab.fudan.edu.cn/
严俊,1997年毕业于复旦大学遗传学和遗传工程系获得学士学位;2003年毕业于中国科学院上海生物化学和细胞生物学研究所获得博士学位。2003-2009年间在美国贝勒医学院和美国哥伦比亚大学医学院从事博士后研究。2009年任南京大学副教授。2019年加入复旦大学实验动物部。研究成果以第一作者或通信作者发表在Nature Communications、Cell Research、Cancer Research、Oncogene、Theranostics、Journal of Organic Chemistry和Journal of Biological Chemistry等国际学术期刊。科研方面获得多项国家自然基金资助。
招生专业
动物学
研究方向
1)肿瘤耐药复发和转移的分子机制;
2)可视化动态监测肿瘤耐药复发和转移;
3)新型耐药和转移的小鼠模型构建及其在小分子药物的前期临床验证。
主讲课程
《实验动物与动物实验操作技术规程》
《专业外语》
代表性论文(*通讯作者):
1. Zhuang J#, Shen L#, Li M#, Sun J, Hao J, Li J, Zhu Z, Ge S, Zhang D, Guo H*, Huang R*, Yan J*. Cancer-associated fibroblast-derived miR-146a-5p generates a niche that promotes bladder cancer stemness and chemoresistance. Cancer Research 2023; May 15;83(10):1611-1627. doi: 10.1158/0008-5472.CAN-22-2213.
2. Liu J#, Li M#, Wu J#, Qi Q, Li Y, Wang S, Liang S, Zhang Y, Zhu Z, Huang R*, Yan J*, Zhu R*. Identification of ST3GAL5 as a prognostics biomarker correlating with CD8+ T cell exhaustion in clear cell renal cell carcinoma.Frontiers in Immunology 2022; Sep 12;13:979605. doi: 10.3389/fimmu.2022.979605.
3. Yang L#, Sun J#, Li M, Long Y, Zhang D, Guo H*, Huang R*, Yan J*. Oxidized low-density lipoprotein links hypercholesterolemia and bladder cancer aggressiveness by promoting cancer stemness. Cancer Research 2021; Nov 15;81(22):5720-5732. doi:10.1158/0008-5472.CAN-21-0646.
4. Huang Z#, Yan YL#, Zhu Z#, Liu J, He X, Dalangood S, Li M, Tan M, Cai J, Tang P, Huang R, Shen B, Huang RM*, Shen B*, Yan J*. CBX7 suppresses urinary bladder cancer progression via modulating AKR1B10-ERK signaling. Cell Death and Disease 2021;12(6):537. doi:10.1038/s41419-021-03819-0.
5. Dalangood S#, Zhu Z#, Ma Z, Li J, Zeng Q, Yan Y, Shen B, Yan J*, Huang R*. Identification of glycogene-type and validation of ST3GAL6 as a biomarker predicts clinical outcome and cancer cell invasion in urinary bladder cancer. Theranostics 2020;10(22):10078-10091.DOI:10.7150/thno.48711.
6. Huang X#, Zhu H#, Gao Z, Li J, Zhuang J, Dong Y, Shen B, Li M, Zhou H, Guo H*, Huang R*, Yan J*. Wnt7a activates canonical Wnt signaling, promotes bladder cancer cell invasion, and is suppressed by miR-370-3p. The Journal of Biological Chemistry 2018;293(18):6693.DOI:10.1074/jbc.RA118.001689.
7. Chang C, Liu J, He W, Qu M, Huang X, Deng Y, Shen L, Zhao X, Guo H, Jiang J, Fu XY, Huang R, Zhang D, Yan J*. A regulatory circuit HP1γ/miR-451a/c-Myc promotes prostate cancer progression. Oncogene 2018;37(4):415-26.DOI:10.1038/onc.2017.332.
8. Xu PW, Chen C, Liu JK, Song YT, Zhou F*, Yan J*, Zhou J*. One-pot sequential [3+3] dipolar cycloaddition of aldehyde or ketone, hydroxylamine with spirocyclopropyl oxindole. The Journal of Organic Chemistry 2018;83(20): 12763-74. DOI:10.1021/acs.joc.8b02208.
9. Xu P, Liu J, Shen L, Cao ZY, Zhao XL, Yan J*, Zhou J*. Diastereo- and enantioselective [3+3] cycloaddition of spirocyclopropyl oxindoles using both aldonitrones and ketonitrones. Nature Communications 2017;8:1619. DOI:10.1038/s41467-017-01451-1.
实验室成员